Here's the new MOMOLAND's Nancy of the Philippines
MOMOLAND's Nancy is famous in the Asian Country called Philippines where her look-a-like "Liza Soberano" stays.
Try this quiz: This is your dating history with Korean celebrities!
Liza Soberano is a Filipino-American actress, and tops the most beautiful faces in 2017.
Both Nancy and Liza gathered the attentions of their respective fans because of their resemblance to each other.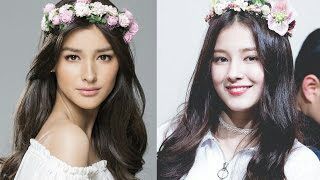 (ctto)
However, it looks like the netizens found a new Nancy in the Philippines.
A facebook page called "A n a k S a L a b a s" posted an edited photo of MOMOLAND's Nancy during the group's live stage performance.
The face that covered MOMOLAND's Nancy has the same name as her which made her the third Nancy. 
Nancy Binay, is a Filipino Politician and the eldest daughter of the former Vice President of the Philippines, Jejomar Binay.
Indeed, Filipinos are creativenetizens.
Disclaimer: ILoveKstars do not intend to harm any of the names mentioned above.