BTOB's Eunkwang And Highlight's Yoon Doojoon Successfully Completed Their Basic Training
BTOB's Eunkwang and Highlight's Yoon Doojoon were all smiles after completing their basic training!
Eunkwang received first place out of the recruits in the overall results and left the training with excellent scores.
On October 4, Eunkwang was joined by fellow BTOB members who came to congratulate him at his completion ceremony. Along with photos of Eunkwang and the members, they added, "October 4, 2018 at Eunkwang's completion ceremony. Meeting Seo! Eun! Kwang! for the first time in a while. Our leader, who gets first place wherever he goes. We're so proud of him. (He received a commendation for his excellent scores.) Until the day we're a full group again, BTOB and Melody forever. With Minhyuk, Hyunsik, Ilhoon, and Sungjae (Changsub and Peniel were there in spirit)."
Yoon Doojoon also completed his six weeks of training and attended his completion ceremony as his members watched. He will continue with an additional three weeks of training at the Army Administrative School in Yeongdong County in Chungcheong province. This is an educational facility for the training of administrative, special forces, and military personnel.
A source from Around US Entertainment told a Korean media outlet, "It has not yet been decided where Yoon Doojoon's final location will be. If you receive training at the Army Administrative School, there's a high possibility that you'll serve as a military police officer."
Fellow Highlight member Yang Yoseob posted a photo from Yoon Doojoon's ceremony. He wrote, "You're awesome!" and added a sticker that points at him with the words "Our leader."
On its official Twitter account, Around US Entertainment also shared photos of Yoon Doojoon along with members Son Dongwoon, Lee Gikwang, and Yang Yoseob who went to visit.
The agency wrote, "[A trainee's photo] Our leader Yoon Doojoon finished the training completion ceremony with a manly, handsome appearance. He also showed off his beautiful writing and read out loud a letter to the parents as the representative of the trainees. We once again congratulate our leader who shines brightly wherever he goes for completing his training."
They added, "Yoseob, Gikwang, and Dongwoon who came to the completion ceremony! And Junhyung who unfortunately could not attend along with Lights. Until we meet again, I hope you'll be full of happiness."
 · 16h
[훈련병의 사진] 늠름하고 멋있는 모습으로 수료식을 마친 우리 대장 윤두준! 수려한 글솜씨를 뽐내며 수료생 대표로 부모님께 올리는 편지까지 멋지게 낭독했는데요! 언제 어디서나 빛이 나는 우리 리더 윤두준님의 신병 교육 수료식을 다시 한 번 축하드리며, pic.twitter.com/4TbyjeFWk6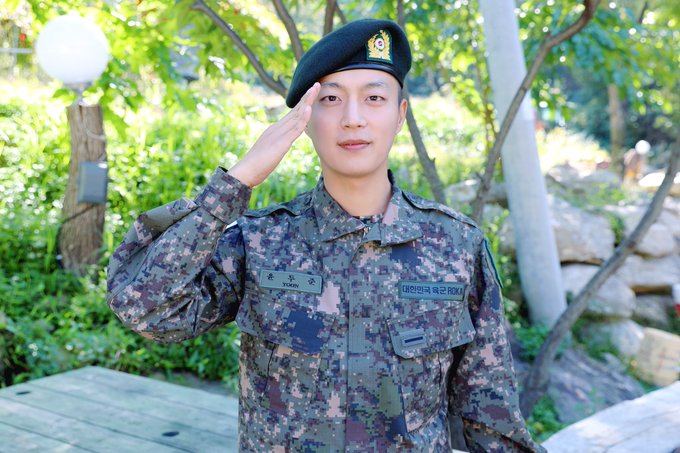 수료식에 함께해준 요섭, 기광, 동운! 그리고 아쉽게 함께하지 못한 준형과 더불어 하이♡라이트가 다시 만날 그날까지 모두 행복만 가득하길 바랍니다:)#하이라이트 #Highlight #윤두준 #용준형 #양요섭 #이기광 #손동운 pic.twitter.com/U0eOoUPBI1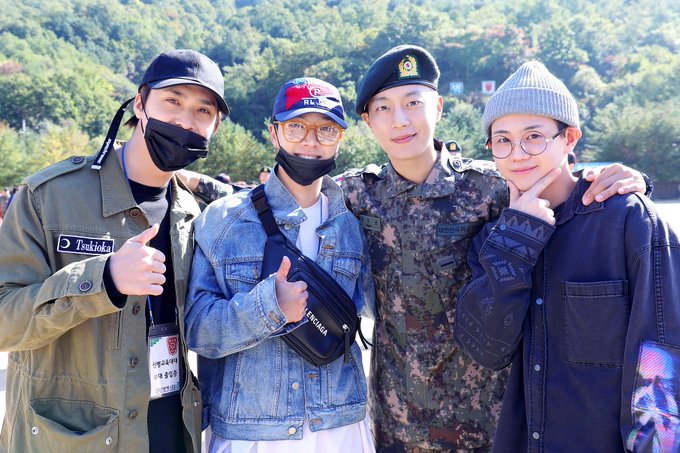 [REPOSTED] All rights belong to their respective owners. (Click here)